A sustainable, renovated head office
The Nederlandsche Bank (DNB) is renovating its head office, and sustainability takes centre stage. This is reflected in three ways: our preference for renovation over demolition and construction, the design of our new premises, and our reuse of materials.
Sustainability is key
At DNB, we believe sustainability is key. We want to achieve economic growth that has no harmful effects on the environment. As an organisation, we want to work in a climate-friendly and environmentally conscious way. That is why we place great emphasis on sustainability during the renovation of our head office.
Renovating rather than rebuilding
First and foremost, our emphasis on sustainability is reflected in our decision to renovate our head office rather than knocking it down and building a new office. This saves 70,000 tonnes of primary raw materials and halves our environmental impact compared to constructing an entirely new building.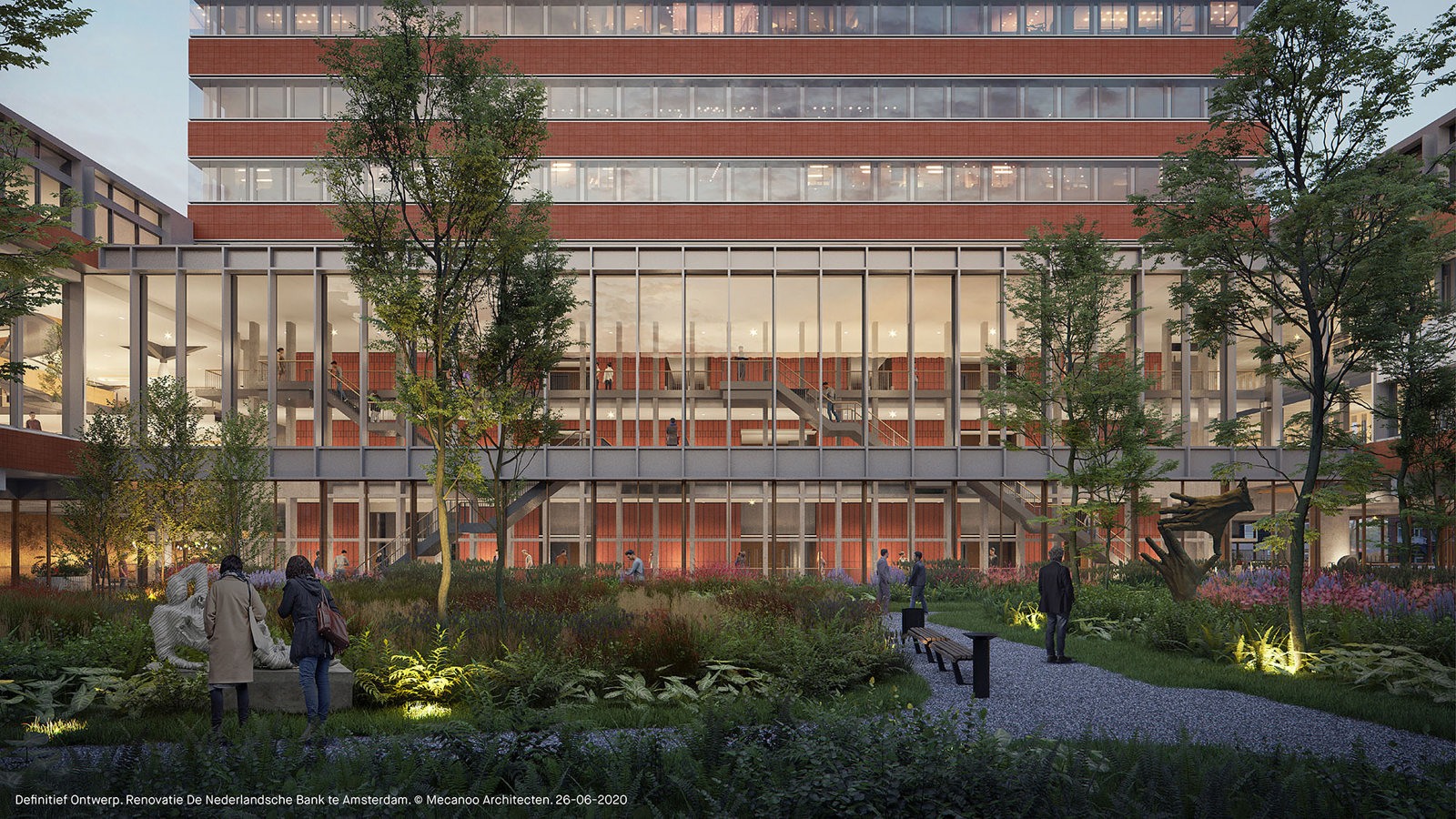 Energy efficiency
Furthermore, sustainability is clearly reflected in the design of our new headquarters. Energy consumption and carbon emissions will be down by more than 80% in our renovated building. Where possible, we will use sustainable energy sources such as solar panels – our roofs will have about 1,650 of them. Our renovated building will have a high-level energy label. We will purify our wastewater and rainwater in a special plant before we dispose of it.
Plenty of greenery
We will have plenty of greenery around our property, including on the roofs. The ground floor will feature a courtyard garden, including a vegetable and herb garden. It will be accessible to everyone. The courtyard garden, the new Singelgracht waterside terrace and Frederikspark together form a new green space where you can walk and sit down. This is how we contribute to a more healthy, green and sustainable environment for employees and the people of Amsterdam.
Insects and birds
We will put up nest boxes and insect hotels among the greenery to create a fine habitat for insects and birds. Our greenery plans tie in with the City of Amsterdam's vision on inner city development for the period up to 2040. Frederiksplein will be turned into Frederikspark, a 'cool spot' on Amsterdam's heat map.
Reusing materials
Lastly, we use as many recycled materials as possible. For example, we reuse concrete from demolition work elsewhere in the renovation. By injecting CO2, we create carbon-neutral concrete, which is a world first.
We have torn down the round tower of our head office. Its materials will be reused in a residential care facility elsewhere in Amsterdam.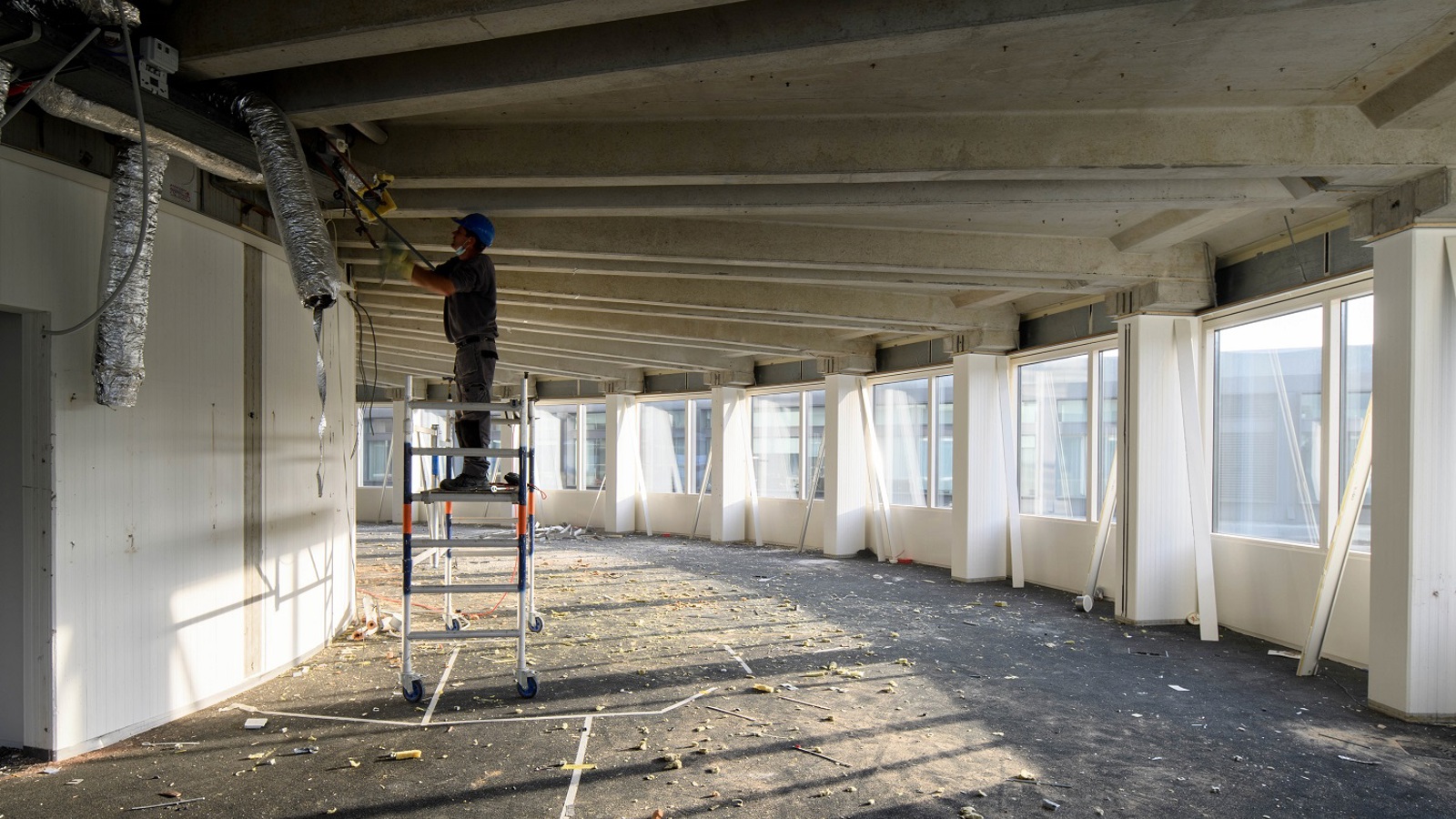 Testing ground for circular economy
During the renovation, we are experimenting with reusing raw materials. With this project serving as a testing ground, we are giving the circular economy a boost. Innovative companies involved in the project are given the opportunity to scale up their activities. Together with CB'23, a platform that seeks to promote standards on circular building for the construction industry, we are working to develop a methodology that should make contributions to the circular economy measurable.
Certification
Thanks to all these sustainability measures, our building will receive BREEAM and WELL certification. These are certifications in the field of sustainability and health.
DNB uses cookies
We use cookies to optimise the user-friendliness of our website. 
Read more about the cookies we use and the data they collect in our cookie notice.